Whether by phone or e-mail: Get in touch with our service team and outline your request.
We may already have the answer to your question: our support section provides fast answers to frequently asked questions about our products:
Our contact form
Unable to find an answer to your question in the Support section?
For written enquiries or call-back requests, please use our contact form:
Our service team
Our service team will be happy to help. Simply call:
You can reach our Call and Support Center from Monday to Friday from 7am to 6pm.
How to find us
How to reach our different offices:
D-Trust GmbH
Kommandantenstr. 15
10969 Berlin
Deutschland
Tel: +49 (0)30 2598 - 0
Website: https://www.d-trust.net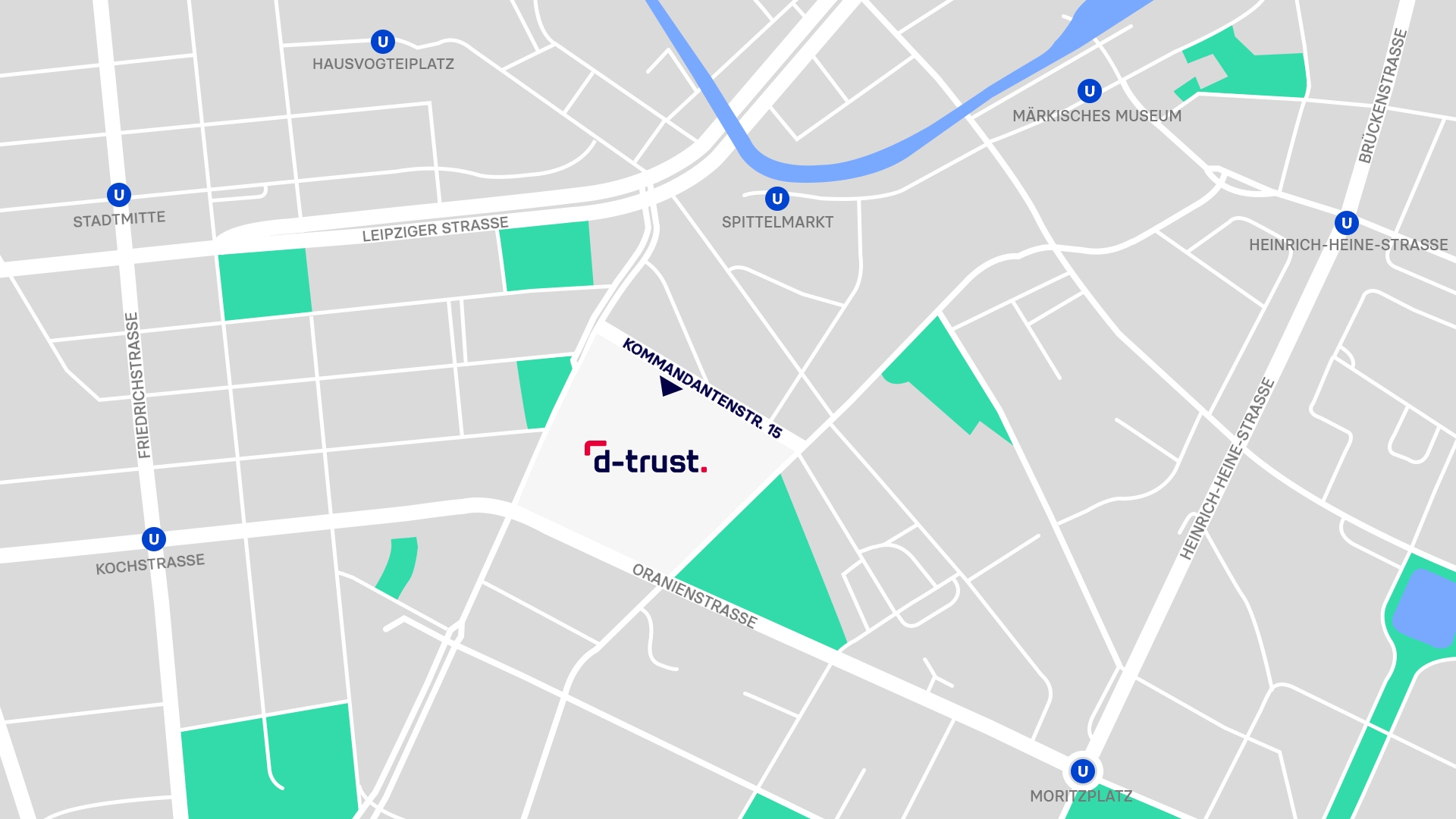 From Berlin's "Hauptbahnhof", take the M41 bus (to Sonnenallee/Baumschulenstraße)
After around 10 minutes, get off at "Anhalter Bahnhof"
From there, take the M29 bus (to "U Hermannplatz")
After around 8 minutes, get off at "Waldeckpark"
Change here to bus 248
Get off at the next stop "Kommandantenstraße"
As an alternative, you can walk from "Waldeckpark" to "Kommandantenstraße" (about 300m)
On the A2 from Magdeburg, take the A2 exit to "Berlin/Kassel" to change to the A10. After approx. 18 kilometres keep left on the A115
When you reach "Messegelände", follow the signs for "A100/Wilmersdorf/Kurfürstendamm/Flughafen Schönefeld" and take the A100
Take exit 20 (Tempelhofer Damm) and change to the B96 in the direction of "Flughafen Tempelhof", then turn left on "Tempelhofer Damm/B 96" and follow the B96 for around five minutes
Take a right onto "Tempelhofer Ufer" and continue straight ahead on "Waterloo-Ufer" and "Gitschiner Straße"
After passing "Prinzenstraße" underground station, take a left onto "Prinzenstraße"
Continue until you reach the roundabout and take the first exit onto "Oranienstraße"
At "Oranienstraße/Alte Jakobstraße", turn right on "Alte Jakobstraße"
Then drive 300m to "Kommandantenstraße"
And turn left on "Kommandantenstraße"